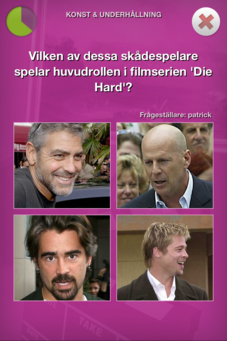 Put your trivia knowledge to the test in the new Swedish iPhone game Quizkey. Besides answering questions, you can also create your own and hiss or diss existing. In Quizkey, the players shape the game.
Are you sometimes disappointed with the questions while playing trivia games or quizzes? In Quizkey, players can create their own questions, and hiss or diss existing ones. Bad or unpopular questions are automatically purged by the game.
Quizkey already has thousands of text- and image-based questions in its database, distributed over six categories. And the questions gain in numbers as more players come in and contribute. The questions' difficulties are ranked from how many people get the answer right.
In Quizkey, you can play against yourself in a struggle with time or with three lives. Up to four players can challenge each other over WiFi or Bluetooth.
All questions are saved on your phone, which means that it is perfectly possible to play offline as well. When you go online, Quizkey automatically syncs against the database, to ensure that your questions are always up-to-date.
If you add your own questions, you can also – in real time – follow how other players answer them, how difficult they turn out to be, and whether people think they are fun or bad.
In the upcoming releases, it'll be possible to:
Play against one another over the internet
Hook up your own databases, for companies that want to train or educate customers or staff, or for students studying for an exam together
Quizkey will also be available for Android.