Want to customize your cover- and profile picture on Facebook? The new Facebook Timeline lets you add a cover picture shown above and behind your profile picture. People have already begun to explore different creative ways of combining the cover picture with their profile picture.
Below, you can download a template I made just for the fun of it, with the exact dimensions of both pictures, and the borders added by Facebook. With this template you can experiment yourself with different combinations, and when you have a layout you are satisfied with, just cut the cover picture to 851×315 pixels and upload it to facebook.
The profile picture in your Timeline is just 125×125 pixels, Facebook however requires it to be at least 180×180 pixels when uploaded. You might even want it larger than that, for the full-size picture people see when they click it. Therefore you might want to scale up the whole template so the 125×125 pixel profile picture frame fits your needs (for instance, say you want your profile picture to be 250×250, then just double the size of the template. Then save your cover picture at 50% scale so it fits right in).
If you use Photoshop, just download the .PSD, if you don't, use the alpha layered .PNG in whatever graphics editing program you prefer.
Have fun!
Update 2012-04-18: Due to Facebooks recent change in the profile picture size, I have updated the templates below with the new dimensions.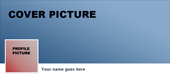 Facebook Timeline template for Photoshop Facebook Timeline PNG template